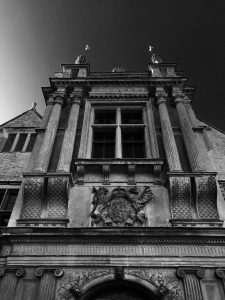 Sunday 29th October 2017. Winter is officially here as the clocks went back last night. We thought it would be a good idea to squeeze in one more National Trust property before winter fully landed on us. We decided on Charlecote Park in Warwickshire. Before we got there we had to do our usual run into Leicester to get Ash, which led to the inevitable breakfast at the Phoenix and then grabbing some snacks from Lidl. Once we eventually set off it took about 40 minutes to get there by going through Leicester then onto the M69 and then A45.
Once there, they let us park up by the house as Shani had her Blue Badge. The house was built around 1558 and has incredible walks to enjoy around the grounds. The house contains many historical items from different periods in British history from Tudor times, through to Victorian time and the First World War. The Lucy family who built the house all those years ago still reside in one wing, and there is even a holiday flat that is available to rent if you fancy staying there. Friendly as ever staff were on hand in each room to provide information on all aspects of each room, the house and the family.
We did the usual pit stop at the coffee shop before hitting the gift shop and departing. There is a Garden Centre opposite which we had a quick look at before heading home. During the trip home we ducked into TGI Fridays at Coventry for dinner, then went back to Leicester to drop off Ash. A short, but satisfying, day out. It also turned out to be our last proper trip of the year as the weather, and nights, closed in.