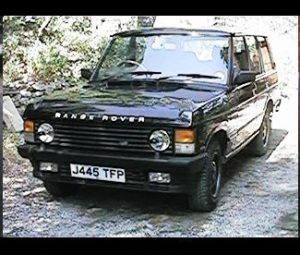 We kick-started our Land Rover ownership as a family when my Dad got this 1992 Vogue SE 3.9 litre V8 Range Rover from a friend of ours, who himself had it from new. Dad got it around 1995, and we had it until 28th November 1998, when he traded it in for a brand new 50th Anniversary Freelander.
I have remarkably few photos of this car, although it was probably (with the exception of my first ever car – a 1975 Mini Clubman) my most favourite vehicle ever. This Range Rover was a brilliant drive, with a comfort and power to match its status. It also had a commanding view of the road, with a ride height permanently in off-road mode. It had to be, there was no adjustable suspension! It cornered like a listing boat, but that was part of the fun. The seats in ours were cloth, which I prefer. When they heated up, they got very warm, which was a total novelty in those days. It also had ferocious brakes, that required a very light touch. Some of the controls were borrowed from the Austin Metro, but if you had never been in a Metro, you would never know! By modern standards it is basic, noisy and polluting, but back in the day, as far as I am concerned, few cars could touch it.
Originally codenamed 'Velar', the first Range Rovers were launched to the public in June 1970. After a production total of 317,615 vehicles, the last Range Rover 'Classic' drove off the production line on Thursday 22nd February 1996.
Gallery Of Photo's: