I have been wearing these boots since the early 1990's. Now on my 5th pair, I have travelled the world in these things – Europe, Africa, Asia and the USA. The only time they proved to be a problem was in San Francisco airport in 2002, when I had to take them off twice en-route to my internal flight to Vegas to be x-rayed! Putting these on is like coming home. Pictured are my current dog-eared pair that are falling apart. I got them in NYC in 2012, and haven't really taken them off since. Most of the metal supports inside have worked loose and fallen out, the laces have been replaced twice, a lace eye has fallen out and the top part of the left boot has ripped down the side of the lace eyes. They got worn across the beach recently and are still waterproof, still comfortable and still look great. Value for money, comfort, style and functionality. What more could you want from any product? Buy a pair now at Timberland.
As a footnote (sic) – in August 2017 I finally replaced my old boots with a brand new pair. May they also last 5 years!!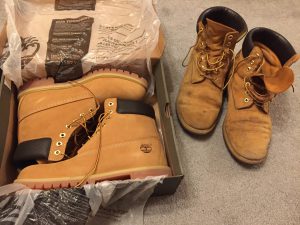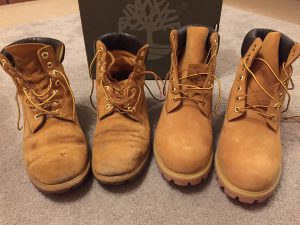 Old (2012) Vs New (2017)! Hard to believe they are the same size.